Year of Virtue - An Introduction
My prayer is that this year will be one of genuine transformation for our family, your families, and individuals. I think most of us could benefit from building awareness and application of the virtues. A Phoenix friend of mine and I are developing a casual, monthly curriculum for our kids. It is out of this new curriculum, the ideas for the calendar have grown. Through studying the lives of the saints, following the liturgical calendar at home, making hands-on crafts, and lots of prayer we will begin our pursuit of virtue.

A big thank you for those who completed the liturgical calendar questionnaire (congratulations to our calendar winner!). We've taken all of your feedback into consideration. This year the Sacred Art Calendar has a new, improved look. We've simplified the design by working with one outstanding artist (to be announced soon!). It's larger, at 12x18", to allow for relevant monthly information about the lives of the saints, liturgical activities, craft ideas, prayers, and space to write your own notes!
Y e a r o f V i r t u e
We are excited to introduce our new blog series in conjunction with the upcoming Year of Faith calendar! Rather than wait until the start of the liturgical year, we will begin our online activities in August to follow the academic calendar. Our hope is that through these simple crafts, suggested activities, and powerful prayers, your family will grow in virtue together.
Over the next 6 months we will be painting 2-3 different pegs per month which will each represent a virtue or liturgical season for that particular month. These hands-on activities can be great fodder for conversation (kids ask great questions!) as we examine the lives of the people we hold and paint. We can see the virtues lived out through their actions.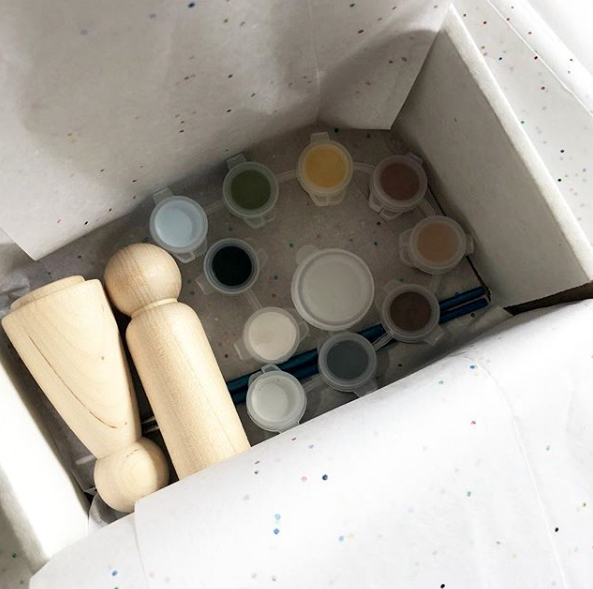 Emmaus Road Pegs DIY kits correspond with the monthly activities suggested in the 2018-2019 liturgical calendar.
We are also pleased to announce that Kristina from Emmaus Road Pegs has developed special DIY peg doll kits to correspond with the 2018-2019 Year of Virtue calendar. Each set includes 2-3 blank pegs, paint, brushes, sealer, and instructions. Kits will be available to purchase individually or as a monthly subscription. (TIP: By the end of the year you will have the cutest hand-painted nativity scene around!)
When you purchase the liturgical calendar, you will receive a discount code to use at Emmaus Road Pegs! Additional details will be outlined when we launch the Year of Virtue calendar.
The 2018-2019 Year of Virtue calendar will be announced in August! A limited number of pre-sale calendars will be available. If you would like to be notified of the pre-sale, you can sign up for our monthly newsletter here.